Custom Mosaic Tile Design & Fabrication

NORMAL MOSAIC TILES
Mosaic tiles have a long history, dating back to ancient civilizations such as the Greeks and Romans, who used them to create intricate and decorative designs in their homes and public buildings. Today, mosaic tiles continue to be popular in interior and exterior design, and are used in a variety of applications.
Whether you're looking for a traditional mosaic pattern or more contemporary tiles, our extensive range has something for you. Browse outdoor and indoor mosaic tiles for both walls and floors online today.
What are the Mosaic tiles?
Mosaic tiles are small pieces of tile, typically less than 2 inches in size, that are arranged to create a pattern or design. Mosaic tiles can be made from a variety of materials, including marble and travertine. It is widely used in indoor small area a floor, or a wall with the characteristics of small, exquisite, and colorful.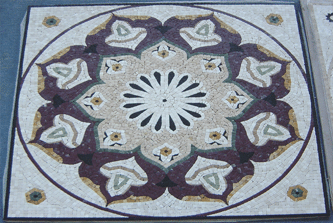 Split Face Mosaics
Split face mosaic refers to a type of mosaic tile that has a rough, natural, and textured surface. The tiles are made by splitting natural stone, such as slate, quartzite, or marble, along its natural layers to create a textured, three-dimensional surface. The resulting tiles have a unique texture and pattern that can add depth and interest to any design.
With practice of many years and hundreds of projects. We believe that we can design and manufacture what you want.