Reconnect with nature with our mosaic art
With mosaics you can add a splash of colour to the heart of your home with mosaic kitchen tiles for a practical and decorative touch that also introduces a new feature to your kitchen design? Using mosaic tiles, you could create a splashback that achieves an eye-catching aesthetic or a border detail that complements surrounding kitchen accessories
Why mosaic tiles?
Embellishing a room with a mosaic is an easy, cost-effective, versatile and long-lasting way to brighten up any home.

Thanks to their versatility, shape and size, every mosaic can be as unique as you need it to be, meaning creating a timeless and eye-catching focal point with these tiles couldn't be easier. Our mosaic tiles come in a variety of sizes, from 4x4cm tiles to be used in a focal, feature wall design, to 60x60cm tiles that could be used to maximise small spaces such as bathrooms. Mosaic tiles are a great way to create an illusion of space due to their design flexibility and visual appeal and, as such, will complement a variety of rooms and interior styles.
This range also comes in a vast array of colours to suit any interior style to ensure there's a tiling solution to complete your home's unique aesthetic. Whether you're opting for relaxing blue hues to set the tone in your bathroom or the perfect neutrals to complement your kitchen design, there's a style and colour to suit your every requirement and create the look you desire.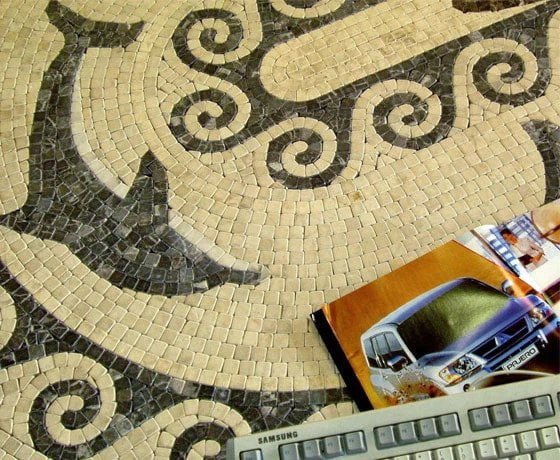 Create a mosaic in your bathroom

Brighten up your bathroom
Mosaic bathroom tiles offer a stylish and sophisticated solution for walls or floors, allowing you to transform an uninspiring room into an opulent showroom-style space.
The same high-end style can be artfully applied in the kitchen – a highly practical room of the house prone to all kinds of slips, trips and spills (making tiles a sensible design solution if you want to keep your kitchen looking its best for years to come). 
Creating a stunning feature wall is easier than you may expect. Our collection of mosaic tiles come on a rigid plastic mesh that can be easily cut and shaped using a utility knife or pair of scissors to ensure a quick and simple installation. As a result, this means that you won't need to worry about how straight each one of your individual tiles are, as the mesh base will hold them in place to avoid any major errors.
EML Egyptian Marble Limestone
We understand that the right tile has the power to make any interior design project a stunning success. That's why we strive to source such a wide range of tiles in different sizes, textures, patterns and finishes – meaning you're guaranteed to find the perfect tile for your interior design project.