Dijon Limestone – Brushed Limestone Tiles
Dijon Limestone Specifications
| | |
| --- | --- |
| Product Name |  Egyptian Dijon Limestone Floor And Wall Tiles Design |
| Item NO. | EML -M001 |
| Materials | Egyptian marble slabs &tiles |
| Tile Size (mm) | 100×100 200×200 300×300, 600×600, 800×800,300×600, 300×900 |
| Slab Size (mm) | 2500×1400,  2800×1600 |
| Surface | Polished,  Honed, Hammered |
| Thickness (mm) | 15-50 |
| Sample | Free Materials Sample Available |
| Primary Color | Beige |
| Usage | Interior Wall And Flooring Decoration, Countertop |
Dijon Limestone – Brushed Limestone Tiles
Dijon Limestone with a brushed finish is a stunning natural stone and one of the most important type of Egyptian limestones that combines elegance, durability, and a touch of subtle texture. Dijon limestone has many names Triesta and Sinai pearl. This limestone variety, with its brushed surface treatment, has gained popularity among architects, interior designers, and homeowners seeking to create sophisticated and visually appealing spaces.
Derived from select quarries, Dijon Limestone is renowned for its warm and earthy tones, ranging from creamy beige to rich dark beige hues. The brushed finish adds an extra dimension to its appearance by imparting a soft and textured surface. Achieved through a process of brushing the stone with fine abrasive brushes, the finish enhances the natural beauty of the limestone while providing a refined and luxurious feel.
One of the defining features of Dijon Limestone with a brushed finish is its ability to create a sense of sophistication and subtle texture. The brushed surface retains the stone's inherent beauty while adding a gentle tactile element. It offers a unique combination of smoothness and slight irregularity, creating a visual interest that captures attention. The brushed finish also adds a touch of depth, enhancing the stone's natural character and providing a luxurious ambiance to any space.
Dijon Limestone Application Show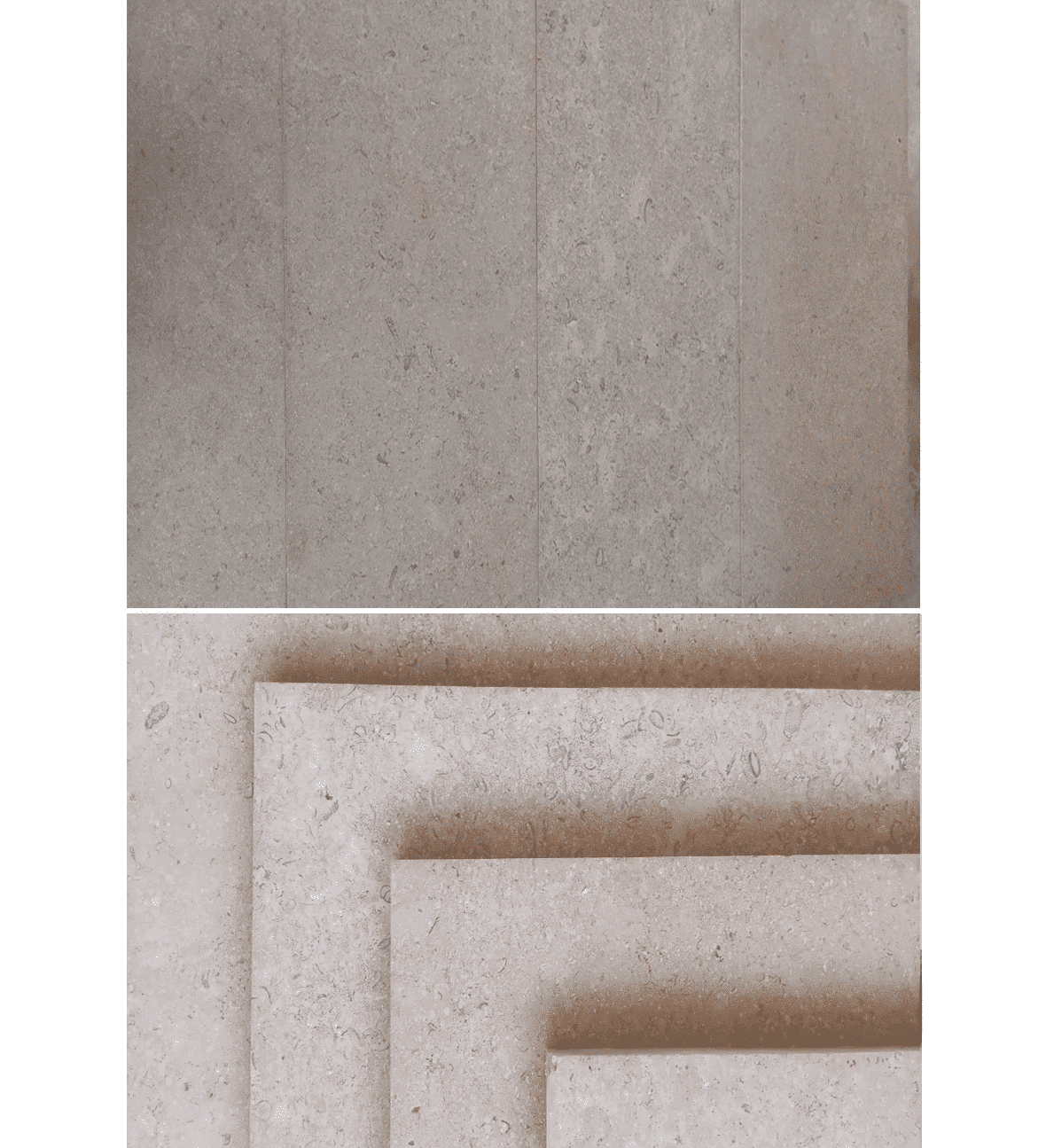 The versatility of Dijon Limestone with a brushed finish allows for a wide range of applications in both residential and commercial settings. As flooring, it brings a sense of elegance and warmth to living areas, kitchens, bathrooms, and more. Its textured surface adds grip and makes it suitable for high-traffic areas. Additionally, as wall cladding or a feature wall, it adds depth and visual interest, becoming a focal point that elevates the overall design aesthetic.
Apart from its aesthetic appeal, Dijon Limestone with a brushed finish offers exceptional durability and longevity. Limestone is a naturally durable stone, and the brushed finish enhances its strength. The brushed surface helps to minimize the visibility of scratches and wear, making it a practical choice for both indoor and outdoor applications. It is also relatively low maintenance, requiring regular cleaning to preserve its beauty and ensuring it withstands the test of time.
Design possibilities abound when incorporating Dijon Limestone with a brushed finish into a space. Its warm and earthy tones harmonize effortlessly with a variety of design styles, from contemporary and minimalist to rustic and traditional. It can be paired with different materials, such as wood, glass, or metals, to create a harmonious and balanced look. Whether used as flooring, wall cladding, or in decorative accents, Dijon Limestone with a brushed finish adds a touch of refinement and timeless elegance.
Please contact us for the type of finishing and treatment and our technical department will help you with your question.
Please send your message to us