Triesta Tumbled Egyptian Marble Specifications
| | |
| --- | --- |
| Product Name | Crazy Paving Tumbled Marble Floor Design |
| Item NO. | EML -M001 |
| Materials | Egyptian marble slabs &tiles |
| Tile Size (mm) | 100×100 200×200 300×300, 600×600, 800×800,300×600, 300×900 |
| Slab Size (mm) | 2500×1400,  2800×1600 |
| Surface | Polished,  Honed, Hammered |
| Thickness (mm) | 15-50 |
| Sample |  Materials Sample Available |
| Primary Color | Beige |
| Usage | Interior Wall And Flooring Decoration, Countertop |
Crazy Paving Tumbled
Egyptian marble "Crazy pavers" and "tumbling" are terms often associated with different styles and treatments of pavers in landscaping and construction.
Crazy Paving: Description: Crazy paving is a type of paving design that uses irregularly shaped stones put together in a mosaic pattern, The stones are not uniform in shape or size, creating a unique, "crazy" appearance.
Application: Crazy paving Tumbled is commonly used for driveways, patios and other exterior surfaces.
It is known for its rustic and intimate appearance, adding character to outdoor spaces.
Tumbling Tiles: Description: Tumbling is a process in which the stone is physically tumbled or vibrated to create rounded, worn edges.
This gives the stones a weathered and aged appearance, as if they have been around for a long time.
Application: Mess pavers are commonly used for a more natural, weather-resistant appearance in various landscape projects.
It can be applied to many types of stone including limestone, travertine and granite.
When you combine "crazy pebbles" with "tumbling," you may be referring to a style that incorporates irregularly shaped stones with rounded, weathered edges.
This combination can give an interesting and impressive visual look to exterior surfaces.
If you are considering using a tumbled finish, it is essential to plan the layout carefully to achieve the desired aesthetic.
Also, consider the type of stone used as different types of stone have their own characteristics and durability.
Crazy Paving Tumbled Application Show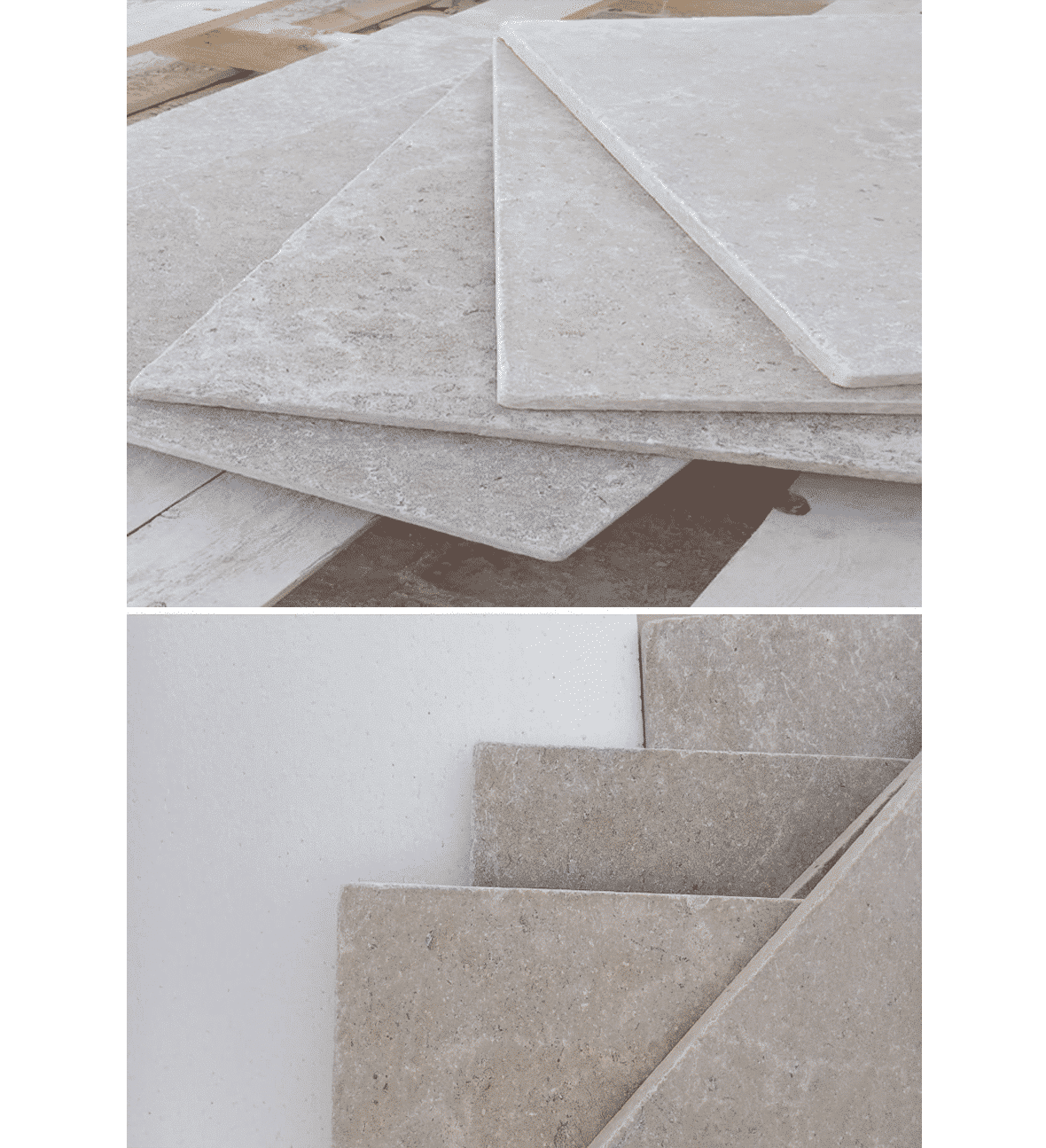 Crazy Paving Tumbled Marble Characteristics: Crazy Paving Tumbled stands out as a distinctive and imaginative landscape choice, blending the unique charm of irregularly shaped stones with the the timeless appeal of the tumbled finish.
This style of paving attracts attention with its playful mosaic-like arrangement, where stones of different shapes and sizes come together in a dance of visual seduction.
The "Crazy Paving Tumbled" look adds another layer of appeal, achieved through a meticulous physical process of Tumbled or vibration, giving the stones their rounded edges and gentle appearance.
This approach creates an aesthetic reminiscent of ancient streets or bustling courtyards, contributing to a sense of history and character in outdoor spaces.
The irregularity and diversity of Crazy Paving Tumbled stone not only creates a visually vivid surface but also evokes a sense of artistic spontaneity.
This whimsical design choice goes beyond simple functionality, making it an attractive choice for those looking to infuse creativity and personality into their landscape.
The versatility of this style is highlighted in its application, offering an attractive solution for walkways, patios and various outdoor surfaces.
Additionally, the "collapse" feature adds a weathered patina to the stones, making them appear as if they have aged gracefully over time.
This not only improves visual appeal but also contributes to the overall durability of the pavement.
Rounded edges and a worn appearance suggest resilience, creating a warm and inviting atmosphere in outdoor environments.
In short, Crazy Paving Tumbled is more than just a paving option; it is a creative expression that brings together playfulness and timelessness.
Whether incorporated into a modern or traditional landscape, this style offers a unique and eclectic character, transforming outdoor spaces into dynamic canvases of art, history and lasting beauty.
Please contact us for the type of finishing and ask for your free sample!
Please send your message to us