Dijon Marble – Brushed Marble Tiles
Dijon Marble Specifications
| | |
| --- | --- |
| Product Name |  Egyptian Dijon Marble Floor And Wall Tiles Design |
| Item NO. | EML -M001 |
| Materials | Egyptian marble salabs &tiles |
| Tile Size (mm) | 100×100 200×200 300×300, 600×600, 800×800,300×600, 300×900 |
| Slab Size (mm) | 2500×1400,  2800×1600 |
| Surface | Polished,  Honed, Hammered |
| Thickness (mm) | 15-50 |
| Sample | Free Materials Sample Available |
| Primary Color | Beige |
| Usage | Interior Wall And Flooring Decoration, Countertop |
Dijon Marble – Brushed Marble Tiles
Dijon Marble, quarried in Egypt, is renowned for its warm, earthy tones and unique veining patterns ranging from pale beige to dark brown. Its versatility makes it an ideal choice for both indoor and outdoor applications. Dijon marble finds extensive use in residential and commercial settings for flooring, worktops, backsplashes, and wall cladding. Its durability ensures resistance to scratches, heat, and wear, making it perfect for high-traffic areas like kitchens and bathrooms.
Notably, Dijon marble's exceptional feature lies in its ability to infuse warmth and charm into any space, creating a natural and organic ambiance that appeals to designers and architects alike. While it may come at a higher cost due to its popularity, its beauty and durability make it a valuable investment, elevating the value of any property.
Dijon Marble Application Show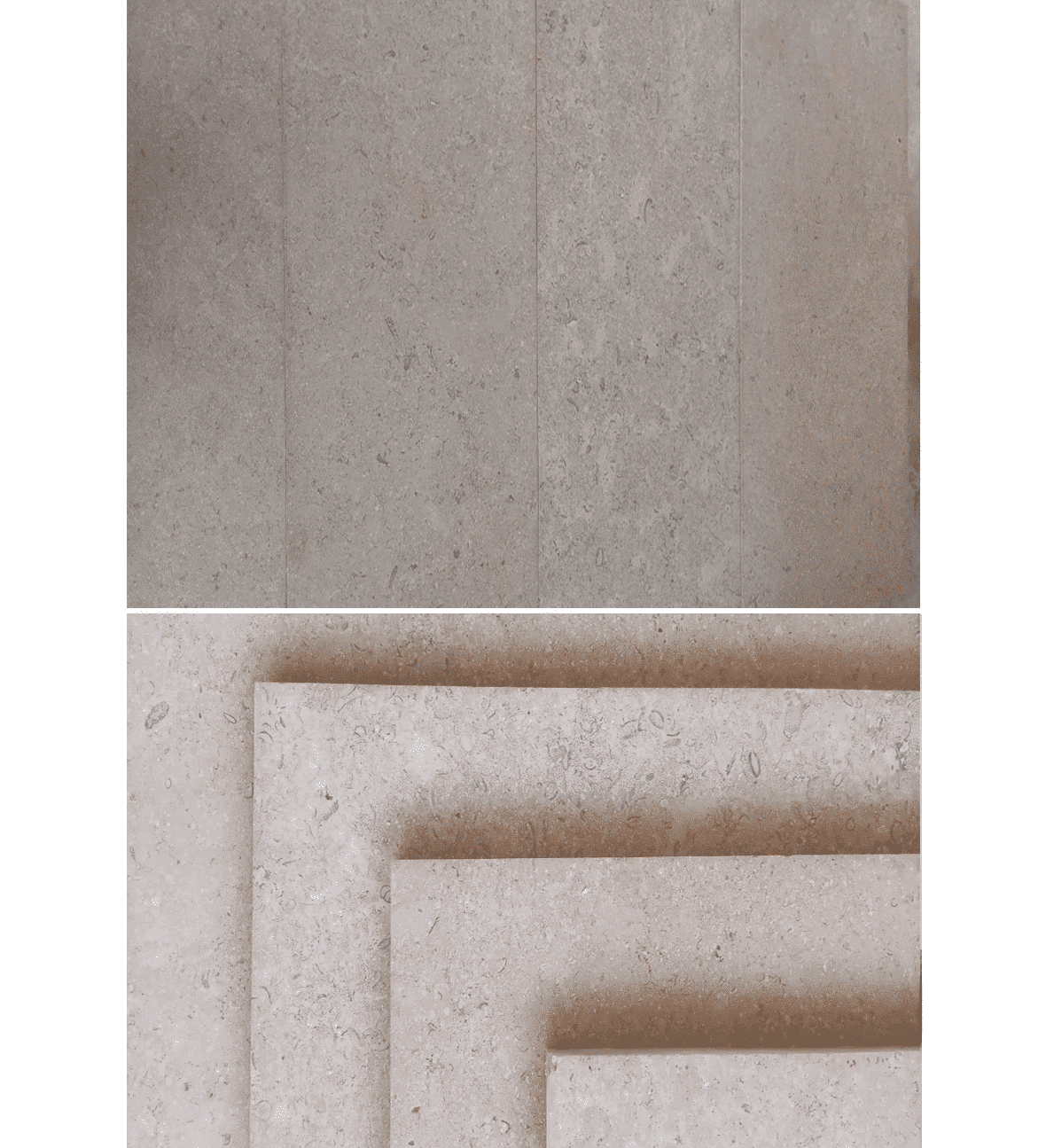 Dijon brushed marble finish is a surface treatment that provides a lightly textured, matte appearance to the marble. This finish is achieved by using a wire brush to remove the softer parts of the stone's surface, leaving behind a slightly rough texture. The result is a natural-looking finish that enhances the marble's unique characteristics, such as its color and veining.
Dijon brushed marble finish is a popular choice for a variety of applications, including flooring, countertops, and walls. It can add depth and visual interest to any space, while also providing slip resistance and durability. The brushed finish can also help to hide imperfections and stains, making it a practical choice for high-traffic areas.
We offer a diverse range of Egyptian marble products that come in various sizes, including tiles, slabs, and blocks.
Our Small Opus Pattern tiles range from 200x200mm to 400x400mm,

while our Large Opus Pattern tiles span from 400x600mm to 800x1200mm.

If you're looking for square tiles, our 900x600mm size is ideal for wall and floor cladding.

For added design flexibility, we also offer tiles in the 600 x Free Length size that can be customized to fit your specific needs.
Visit the website or social media pages & Contact us now to learn more about their offerings!
Please send your message to us